News and Events
NEWS
November 2017
---
Shetland Herd in USA 
Surrogate cows are currently undergoing preparation in Texas for the implanting of Shetland embryos. The resulting calves should be born in August/September, 2018 and will be the first Shetlands in the USA. Watch for further news. 
---
First All-Shetland Births in Australia
Two calves have been born in Australia from Shetland sires and Shetland dams. They are the first calves to be born in Australia from two Shetland parents, joined naturally. In true Shetland style the births were fast, and despite great anticipation and vigilant observation no-one managed to see either birth. Both calves were up and sucking quickly and both heifer mothers, Zetralia Avelyn and Zetralia Aith, were relaxed and calm and allowed well-wishers to pat and handle their calves immediately. See below for more information about the Australian Zetralia herd.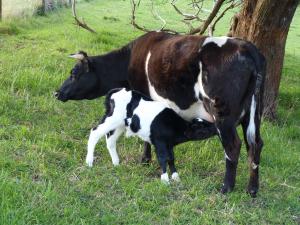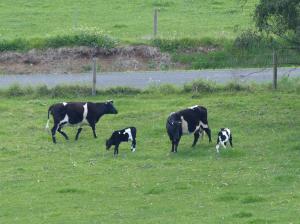 Shetland Herd in Australia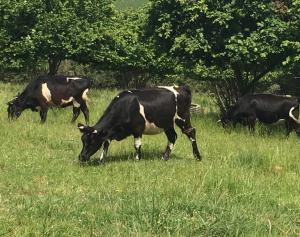 Seven Shetland calves were born in Australia in early 2015 from embryos created in Scotland in 2013 and implanted in Ayrshire heifer surrogates in Australia in 2014. There are four heifers and three bulls. Photos of them can be seen in the Gallery. These are the only Shetland cattle outside the UK. The herd was established by Paddy Zakaria, a member of the SCHBS Management Committee, as an off-shore gene pool to secure the breed in the event of the loss of genetics in the UK. Shetland cattle have been taken out of the UK before, notably a breeding group taken to the Falkland Islands after the war, but there was no systematic plan to create a viable herd at that time and no members of this group have survived. Semen has been collected and shipped to Australia to ensure the diversity and viability of the new herd and the genetics now in Australia represent 93% of all the ancestors and founders of the breed. Additional semen collections will further improve the balance of the new gene pool. Zetralia Avelyn, mother of the first calf, can be seen back left in the photo, at 18 months old and Zetralia Aith, mother of the second calf, is in the foreground.
---
Dun Bull From Shetland
Dun bull Ocraquoy Haldor, 3.5 years old, has been sent from Shetland for a season of breeding on the mainland. The dun colour is still rare in Shetland cattle. Haldor is a fine example and has a very placid temperament. His dam, Hestataing Amber, was a well-known prize winner in Shetland in her younger days and is still breeding successfully at the age of 15. A dun heifer calf of Haldor's appears below.
---
Another 19 Year Old Calves Successfully
Ustaness Gunna, 19 years old last April, gave birth to a lively bull calf on 17 August. Gunna arrived from Shetland into the Fleet herd in Rogart, Sutherland, at the age of 17, for a well-deserved retirement in slightly gentler climes than her homeland. She has, however, showed no inclination to slow down and has produced two calves since, first a heifer, Fleet Moon, and now a bull, Fleet Climper. She is sound and healthy in all respects.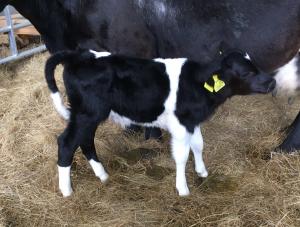 ---
Cunningsburgh Show, Shetland, 2017
Best Calf - Collafirth Hamish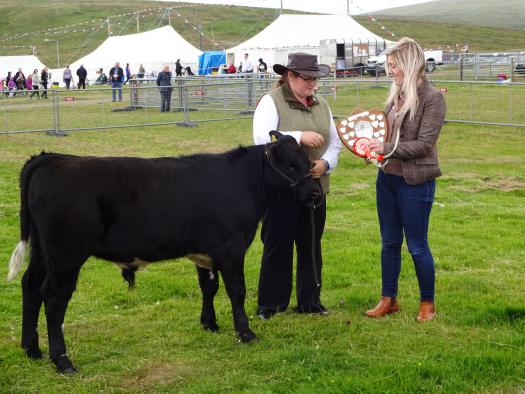 Supreme Cattle Champion - Collafirth Babbie
---
Shetland Beef Biltong Award
Great Taste, organised by the Guild of Fine Food to encourage and mentor artisan food producers, have announced their 2017 award winners, after a judging process lasting from March till July and involving 500 judges from all over the world. These awards are the "Oscars" of the food world and the "epicurean equivalent of the Booker Prize". Paul and Becky Newman keep the Newmans herd of Shetland cattle in the hills above Aberfeldy in Perthshire and run Errichel B&B and Thyme at Errichel Restaurant. This year they won several Great Taste awards for their produce and amongst these was the fine achievement of Two Stars for their Shetland Beef Biltong.
In May Paul and Becky also won the Scottish Land and Estates Award for Agri-Tourism. Their Shetland herd, which they use for milk as well as beef, is an important part of their business and creates interest amongst visitors on guided walks around their spectacular farm. Congratulations to all at Errichel for an excellent achievement and for promoting Shetland cattle!
---
Brindle Back in Shetland
Following a season of work in Shetland by the brindle bull St Trinians Balou in 2015, brindle cattle have reappeared in Shetland. A Shetland-born brindle son is already at work. Heifer Minarvi Maya, born in Shetland last year, displays some of Balou's distinctive striping. 
---
Glachbeg Casper
Glachbeg Casper, a white bull calf, was born on 7 May. He has black ear tips, black eye surrounds and black horn buds. The photos show him with dirt on his face, at six weeks old. White Shetlands are nowadays unusual although in olden times they were common. His great grandsire, St Trinians Ghost, was another white bull. He can be seen in the Bulls album in the Gallery. Casper's sire is Renwick Renoir, seen in the news item below.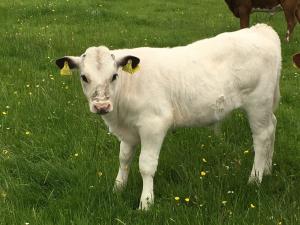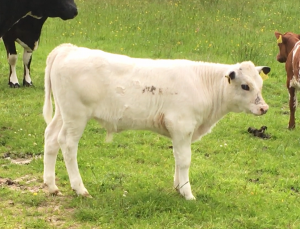 ---
Another Bull for Australia
Semen from three-year-old Shetland bull Renwick Renoir is now awaiting the results of a final blood test before being ready to ship to Australia, Zimbabwe and the USA. Renoir has already provided semen for domestic use and straws are available from the Semen Store. He contributes frame, length, colour (grey) and exceptional temperament.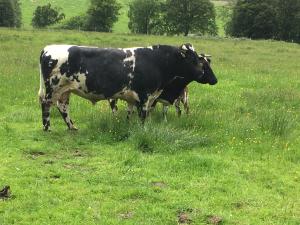 ---
Shetland Genetics to Zimbabwe
A shipment of Shetland semen is currently being arranged for Zimbabwe, the relevant import permissions having been granted by the Zimbabwean authorities. This means that 2017 will see Shetland genetics in three continents - Africa, Australia and North America. Cattle were born in Australia, from embryos, in 2015 and a shipment of semen has been despatched to the USA, with embryos to follow. The semen for Zimbabwe will be shipped to beef farmer, Mr Canaan Gwete, who is looking to bring specific Shetland attributes to his herd of mainly Brahman cattle. He is hoping that the Shetland genetics will improve the milkiness, temperament and hardiness of his herd, and will also moderate the size. Photos below show some of Canaan's mixed herd and also his Brahman bull, grazing his farm west of Mutare in Zimbabwe. Watch for updates to this exciting venture.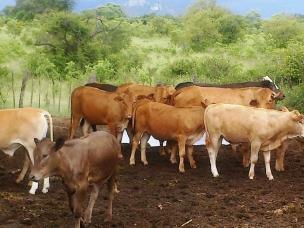 ---
21 Years Old           
Shetland cow, Collafirth Rowan, turned 21 on 23 March. She is hale and hearty and wintering out, but despite bulling regularly, has given up calving, having given birth for the last time in August 2014, to Carn Bhren Irsa, pictured below. However, at the age of 17 she was successfully flushed for embryos and a bull calf of hers, Zetralia Apollo Bay, was born in Australia in 2015. He can be seen in the photo Gallery. Rowan has had 16 calves in all. Of these, two were heifers and 14 were bulls. She calved 14 calves without missing a year from the age of 2 y.o. When she last calved her udder was sound on all four quarters and she has never had teat trouble. She has also never had her feet trimmed. She is a fine example of the breed - hardy, milky, friendly, sound and intelligent.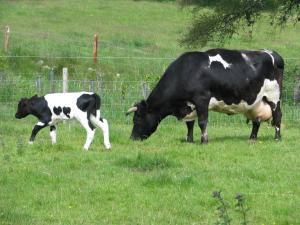 ---
FAnGR Committee 
The FAnGR (Farm Animal Genetic Resources Committee) advises DEFRA and the Devolved administrations on issues related to the conservation and sustainable use of farm animal genetic resources. Regular newsletters are produced.
The FAnGR has been working with DEFRA to update the UK National Breed Inventory of all farm animals resident in the UK (other than poultry). The updated inventory for 2016 is now online at https://www.gov.uk/government/statistics/uk-farm-animal-genetic-resources-fangr-breed-inventory-results. This shows how breed populations are changing over time and can help identify status, trends and potential threats.
The estimated population of registered breeding female Shetlands in 2016 was 551, an increase of 32 from 2015.
If you wish to join the circulation list for the FAnGR newsletter please email fangr@defra.gsi.gov.uk. The newsletter includes important information about native breeds, breeding and genetics, and regulations.
---
EVENTS